Msheireb Downtown
Doha, Qatar
One of the major challenges of our time is to reconcile the global with the local. Many attempts at synthesis have been made, but they have too often ended in one tradition becoming subsumed under another.
Moving forward, we must recognize that, while modernism may represent the global norm, it is not universally applicable or detached from its context. We must also recognize that Islamic vernacular architecture is not a historical and outdated style, but rather a sophisticated system, with a sustainable approach to urban planning that Western architects would do well to learn from.
Our architectural proposal holds the same vision of the urban project of Msheireb Downtown Doha. We rightly recognize the inherent benefits of this vision for Qatar and its legacy. For us this project was an opportunity to embrace and explore non-Western approaches to space and architecture.
There is a tendency in Western cultures to think of space as a neutral category in which autonomous objects (sculptures and buildings) are placed. Viewing space as an absence and not a presence it is thus created with little consideration for the people who inhabit it. Whichever vision presides, space is never neutral.  Space is productive, its meaning arising through intersection and social, economic, cultural and environmental factors.

Sculpting the Void
What happens if space is treated as an entity in itself? If its form is considered just as much as the form of architecture? This means considering the spatial networks that connect buildings – thinking in terms of relationships, not just objects. Great strides have been made in the study of spatial networks and how design impacts pedestrian flow, social cohesion, communication networks and safety. What we need in addition to this quantitative or purely formal analysis of space is research into how iconography, colour, motion and spectacle also determine pedestrian activity. Art can help navigation, promote encounters between different social groups and even make public space more legible to the collective consciousness.
A core objective of the Msheireb Heart of Doha project is to reverse the trend for decentralisation by attracting residents back to the city centre. Our question then: How do we create a development that both mediates between public and private space, and one that is welcoming and secure – a place to meet, converse and conduct business? The key challenge was to blend cultural identity with Leadership in Energy and Environmental Design (LEED) efficiency. Regeneration lies in re-appropriation of the public realm to increase footfall and critical mass, alongside provision of integrated, energy efficient comfort cooling of the spaces to secure inhabitation, engagement and long-term success.

mossessian architecture's role as a Design Architect for Msheireb Downtown is of primary significance to the overall fulfillment of the Heart of Doha Plan. Following an international invited competition, we were initially selected as one of the Design Architects of Phase 1B and allocated nine buildings around the main square. In collaboration with executive architect Burns & McDonnell, these buildings were delivered on budget and on schedule.
Following this success, we were further appointed to deliver buildings across a further three phases of the regeneration project, including the signature Phase 4 towers for the development. Working with executive architects Gensler and HOK, all 23 buildings designed by Mossessian Architecture are built. 
The success of this collaboration can be measured by the delivery of the final design intent from concept design to building completion, culminating in award wins at both MIPIM and the World Architecture Festival.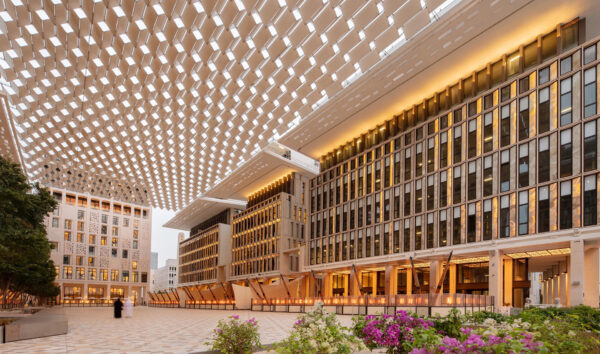 Project details
Client
Msheireb Properties